07.12.2018
Meet the Winemaker of the Lineage Collection: Château Les Trois Croix
We look forward to welcoming Château Les Trois Croix to next Tuesday's wine event featuring The Lineage Collection at Eden. Before the evening, here is an opportunity to familiarize yourself with the winemaker.
"Our parents have always dreamed of raising their own wine.   Their dream became ours, that of the Patrick Leon family. It was in June 1995 that we fell under the spell of the Fronsadais where the beauty of the landscapes goes hand in hand with the excellence of the soil, under the charm of the locality 'Les Trois Croix.'"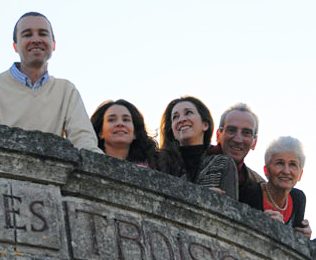 Patrick Léon has unparalleled experience when it comes to producing some of the great wines in the world. A Bordeaux native with an extensive education in Oenology, Patrick studied Oenology and business management.   Patrick joined Alexis Lichine & Company in Bordeaux in 1972 as a purchasing manager for its French wines. Additionally, he held positions as a Technical Manager & Co and General Manager of Château Lascombes Crus Classé in Margaux & Château Castéra in Lesparre-Médoc. He also worked with Alexis Lichine on developing content for his books. Patrick held these positions through the mid-eighties, then worked with Baron Phillipe de Rothschild for nearly twenty years.
As Managing Director for Baron Phillipe de Rothschild, he oversaw technical departments including vineyards and winemaking facilities. Patrick's wide breadth of experience and knowledge has established the foundation to becoming a consulting oenologist and working with Sacha Lichine in this capacity making all the Lichine wines as great as they were.
A beautiful symbol to make this dream a reality.  It was especially the opportunity to be realized all together, to distil a little of our spirit … a family spirit, a spirit of terroir, a happiness to share a great wine simply.
---
The Château Les Trois Croix 2011 will be paired with Chef Devon Quinn's Painted Hills Ribeye, Coffee, Hazelnut, Smoked Yolk, Tarragon. To purchase tickets and view the full menu, click here.